In December 2014, it was announced that the Cormoran Strike novels would be adapted for television by Brontë Film and Television, J.K. Rowling's own production company (which adapted her book The Casual Vacancy) for a BBC One (in the UK) and Cinemax (in the US) release.
The Cuckoo's Calling has three 60-minute episodes, whereas The Silkworm and Career of Evil have two 60-minute episodes each, making a total of 7 episodes for the first three books. Strike first aired on BBC One on 27th August 2017.
Premier and Release
On 10th August 2017, a screening of the first episode of Strike: The Cuckoo's Calling took place at BFI Southbank. The event included a Q&A with actors Tom Burke and Holliday Grainger, along with writer Ben Richards, director Michael Keillor and executive producer Ruth Kenley-Letts.
A TV tie-in edition of The Cuckoo's Calling was released on 10th August 2017, and a TV tie-in edition of The Silkworm was released on September 7th 2017.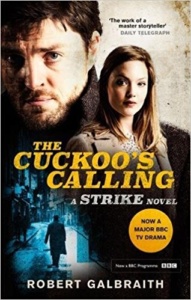 The official UK release date for episode 1 of The Cuckoo's Calling was Sunday, 27th August 2017 on BBC One; episode 2 was shown the following day, Monday, 28th August, and episode 3 the following Sunday, 3rd September. See the official trailer for The Cuckoo's Calling below.
 The Silkworm aired its first episode the week following the last Cuckoo's Calling episode, on Sunday, 10th September 2017, with the second and final Silkworm episode airing on Sunday, 17th September 2017. See the official trailer below.
The first episode of Career of Evil aired on Sunday, 25th February 2018; episode 2 aired a week later on Sunday, 4th March 2018. See the official trailer below.
The Cuckoo's Calling was released on DVD in November 2017; The Silkworm was released on DVD in February 2018; Career of Evil was released on DVD on 16th April 2018, along with a box set of all three.
A TV tie-in edition paperback of Career of Evil was also released in February 2018.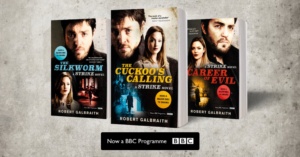 The series, under the title C.B. Strike, aired in the US every Friday on Cinemax from 1st June 2018.
Filming 
Filming started in November 2016 and ended in April 2017. Filming of all three books was done together, non-chronologically. You can find more information on the filming of the series below.
Cast and Crew
Tom Burke as Cormoran Strike
In September 2017, it was announced that Tom Burke (The Musketeers and War & Peace actor) would be portraying Cormoran Strike in the Strike series. Executive producer Ruth Kenley-Letts had previously worked with Tom Burke on other projects (The Hour and The Deep Blue Sea), and it was Tom who kept coming to her mind when she was reading the books. Even after auditioning many actors for the role, none seemed to fit as well as Tom for her. J.K. Rowling was also very keen to see Tom as Cormoran; she loved his performance as Dolokhov in War and Peace and went to see him in a play without anyone knowing.
For the role of a 6-foot-3 "grizzly bear" of a man, Tom went on a protein diet and attended the gym to get bigger. He spent time observing how larger men walked and carried themselves, so he could imitate that way of moving. Cormoran Strike is an amputee, so Burke spent a lot of time with two actual amputees, Barney Gillespie and Mark Wildish, who he could watch walk and who could advise him. Tom stated that running as the character was a bit of guesswork, as he couldn't ask Mark or Barney to run for him, as it would have been agony for them. Tom also worked closely with movement director Toby Sedgewick to perfect his movements as the character. Tom has also read the Cormoran Strike novels multiple times.
Watch clips from our exclusive interview with Tom here.
Holliday Grainger as Robin Ellacott
In early November 2017, it was announced that Holliday Grainger (The Borgias and Cindarella actress) would be portraying Robin Ellacott in the Strike series. When reading the books, Holly said she could see a lot of Robin in herself and her friends. She was drawn to the role early on and very eager to "get out of a corset," after having done so much period drama. She was working on another project in Georgia when she sent an audition tape to the producers and got the role as Robin. In Georgia, Holly started to read the books. Two days after returning from Georgia, she was at a read-through for the series and met J.K. Rowling in the toilets. J.K. Rowling has also expressed how happy she is with Holliday being cast as Robin. A couple of months into filming, Holliday attended a wedding where she was approached by women who were excited to see her as Robin Ellacott; Holly expressed that this was when she started feeling some pressure at portraying a well-loved book character.
Watch clips from our exclusive interview with Holliday here.
See full cast and crew lists and exclusive interviews below.
Reception
The Cuckoo's Calling reached an average of 7.4 million viewers over its three episodes, with 7.8 million viewers at its peak. The show beat the first episode of Victoria, series two, which averaged at 3.9 million viewers and 4.2 million at its peak. The series overall has received great reviews and critical acclaim, as well as much praise specifically for Tom Burke and Holliday Grainger.
In March 2018, The Cuckoo's Calling won the Best TV Drama Award at the National Film and Television Awards.