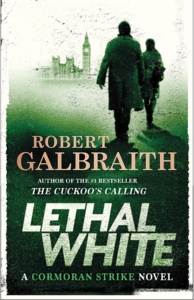 Synopsis
"'I seen a kid killed . . . He strangled it, up by the horse.'
When Billy, a troubled young man, comes to private eye Cormoran Strike's office to ask for his help investigating a crime he thinks he witnessed as a child, Strike is left deeply unsettled. While Billy is obviously mentally distressed, and cannot remember many concrete details, there is something sincere about him and his story. But before Strike can question him further, Billy bolts from his office in a panic.
Trying to get to the bottom of Billy's story, Strike and Robin Ellacott – once his assistant, now a partner in the agency – set off on a twisting trail that leads them through the backstreets of London, into a secretive inner sanctum within Parliament, and to a beautiful but sinister manor house deep in the countryside.
And during this labyrinthine investigation, Strike's own life is far from straightforward: his newfound fame as a private eye means he can no longer operate behind the scenes as he once did. Plus, his relationship with his former assistant is more fraught than it ever has been – Robin is now invaluable to Strike in the business, but their personal relationship is much, much more tricky than that."
The book consists of 656 pages and was again published under the pseudonym Robert Galbraith. The book was released by Sphere (Little, Brown) on 18 September 2018. The audiobook narrator for the first three books, Robert Glenister, returned to narrate the Lethal White audiobook.
Title and Pre-Release
Around the time of the publication of Career of Evil (October 2015), J.K. Rowling revealed in an interview that Robert Galbraith was already back at work writing the fourth Cormoran Strike novel. Later, she also revealed that she was working on another novel under her own name alongside the fourth Strike book, not to mention the Fantastic Beasts sequels for which she is writing the screenplays.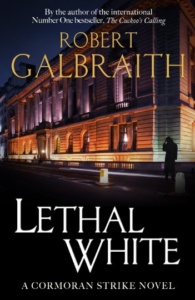 In March 2017, a fan (@luminousmax405) asked J.K. Rowling on Twitter for any hints about the title of the fourth book. She responded with a hangman-like game so fans could guess the title.
_ _ _ H _ _ _ H _ _ _ https://t.co/fa0rJRKnCS

— J.K. Rowling (@jk_rowling) March 14, 2017
It took around 52 minutes for someone to guess the title correctly: Lethal White.
The title Lethal White was later confirmed to be in relation to lethal white syndrome that is found in pure white foals, leading people to wonder what horses had to do with the plot.
Towards the end of January (2018), J.K. Rowling announced on Twitter that Lethal White would be the longest Cormoran Strike novel so far.
https://twitter.com/jk_rowling/status/958376528643002370
According to Rowling, she had the idea for the plot back in 2013 and that it has gone through some huge revisions since.
On 23rd March 2018, J.K. Rowling announced on Twitter that the book was finally finished. On 10 July 2018, the publication date was announced as 18 September 2018.
The book consists of 656 pages, making it the longest Strike novel so far and around the same length of Harry Potter and the Goblet of Fire. 
Reception
Lethal White gained immense positive feedback from critics and book reviewers everywhere.
The New York Times gave the book a mainly positive review, and Joan Smith of the Sunday Times said Lethal White is a "blistering piece of crime writing with real moral purpose" and that the book is "outstanding".
The Express reported a "mixed response" from the book; some were "slightly disappointed" and some thought the book was too "bloated".
Read about the first novel, The Cuckoo's Calling, here.
Read about the second novel, The Silkworm, here.
Read about the third novel, Career of Evil, here.