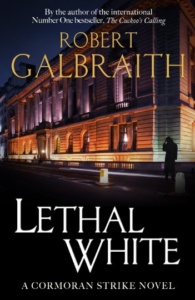 Around the time of the publication of Career of Evil (October 2015), J.K. Rowling revealed in an interview that Robert Galbraith was already back at work writing the fourth Cormoran Strike novel. Later, she also revealed that she was working on another novel under her own name alongside the fourth Strike book, not to mention the Fantastic Beasts sequels she is writing the screenplays for. She's a very busy woman!
In March 2017, a fan (@luminousmax405) asked J.K. Rowling on Twitter for any hints about the title of the fourth book. She responded with a hangman-like game so fans could guess the title themselves.
_ _ _ H _ _ _ H _ _ _ https://t.co/fa0rJRKnCS

— J.K. Rowling (@jk_rowling) March 14, 2017
Here are some of the titles people guessed.
Rather Sharp
Tether Chins
Anchor Chain
Rasher Thief
Eighth Child
Gothic Chain… no, none of those.

— J.K. Rowling (@jk_rowling) March 14, 2017
It took around 52 minutes for someone to guess the title correctly: Lethal White.
The lucky fan who guessed the title correctly will get a signed copy of the book when it is finally finished.
.@warpathed DM me your address and I'll make sure you get a signed copy when I finally finish it!

— J.K. Rowling (@jk_rowling) March 14, 2017
On this day (14th March 2017), Rowling revealed that she was working on chapter 23 of the novel. 
At the end of January (2018), she announced on Twitter that Lethal White would be the longest Cormoran Strike novel so far!
It progresses. Turns out the fourth in every one of my series has to be the longest. 🙄 https://t.co/cnXl2Qju6Y

— J.K. Rowling (@jk_rowling) January 30, 2018
According to Rowling, she had the idea for the plot back in 2013 and has gone through some huge revisions since.
On 23rd March 2018, J.K. Rowling announced on Twitter that the book was finally finished.
The Meaning of the Title
There has been much speculation about the meaning of the title. Many fans believe it could refer to a lethal white drug that has caused a death Strike and Robin will be investigating. Other fans think it might have something to do with the lethal white syndrome found in horses.
J.K. Rowling revealed in an interview that the fourth book will begin immediately after the events in Career of Evil, as opposed to having a flashback later in the book. After leaving us on that cliffhanger, fans will be very grateful for this!
Two fan-made covers of the book were designed by PottersCave and Kernel's Corner. Rowling mentioned on Twitter that one of these covers would be particularly appropriate for the book.
One of those would be particularly appropriate… https://t.co/jaOOYrylMd

— J.K. Rowling (@jk_rowling) December 21, 2017
Two fan-made Lethal White covers by @PotterCave and @kernelscorner. Who's still dying to read it? pic.twitter.com/AsyOTYaBcR

— Cormoran Strike (@CormoranStrike_) December 21, 2017
If you follow the author closely on Twitter, you might remember some of her header photos, which are always related to the thing she's writing about. One of these headers was a photo of a statue of The Fates.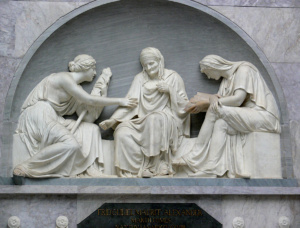 In Greek mythology, the Fates were white-robed incarnations of destiny. The three of them are called Clotho (spinner), Lachesis (allotter) and Atropos (inevitable, death). Atropa also lends her name to the deadly nightshade Atropa Belladonna. The Fates are mentioned early on in The Cuckoo's Calling:
"Just like Robin, Cormoran Strike knew that he would forever remember the last twelve hours as an epoch-changing night in his life. Now, it seemed, the Fates had sent an emissary in a neat beige trench coat, to taunt him with the fact that his life was bubbling towards catastrophe."
This isn't the only time that Greek mythology is mentioned in the series. Whether Cormoran Strike did Classics or something similar at Oxford University, he is obviously very knowledgable on the subject. So we are probably right in thinking that the Fates and Greek mythology are going to feature more prominently in Lethal White.
Another of J.K. Rowling's header photos is a painting: Death on the Pale Horse.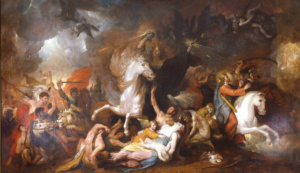 With the link to the lethal white syndrome in horses and the theme of death and the Fates, it is easy to assume that this also has something to do with the fourth Strike book.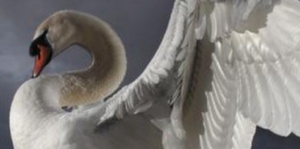 Here is an interesting article on Lethal White and the possible link between the swan header and Cormoran Strike's mother, Leda Strike: http://www.hogwartsprofessor.com/guest-post-leda-strike-rokeby-zeus/
It would make sense if the term Lethal White referred to a drug overdose. Perhaps we will learn more about Leda Strike, as she died from a heroin overdose.